Pritex Ltd. is a manufacturer of acoustic and thermo-acoustic insulation products for the diverse range of automotive and industrial markets.
These products are developed using our on-site acoustic testing facilities and development department. This is essentially the heart of Pritex. Our years of experience, materials knowledge and solutions based approach are what drive our innovations forward. Our vertically integrated manufacturing facilities and innovative approach give us the flexibility to deliver the right solution.
Established for 30 years in the automotive sector AcuZorb is a fully sealed product range performing an acoustic absorption and transmission loss function, designed for use in wet under bonnet and under chassis areas.To compliment AcuZorb, continuous innovation has led to our class leading AcuLite product (e.g. E30F, E45F) range employed extensively throughout the automotive industry as a light weight interior trim acoustic absorption medium.
For heavy machinery and commercial vehicles we also offer an additional TufZorb range of materials where a physically highly robust solution is required as an acoustic medium.
10/11/2016
Winning for the Environment at the Automotive Global Awards
Pritex wins the Environmental Awareness Award at the fifth Automotive Global Awards for Supply Chain.
17/11/2016
Britain's used car market motors to record levels in Q3 as 2.1 million vehicles change hands
Growth in the used car market continued in the third quarter of 2016 as UK buyers snapped up a record 2,148,050 vehicles.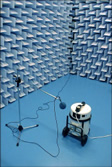 One of our key strengths is the ability to take noise problems identified late in the vehicle development phase and find simple, cost-effective acoustic insulation solutions in a very short lead time.
This is supported by a well-equipped development facility, dedicated acoustics laboratory, and materials laboratory.